Lepin releases a Star Wars Rogue One shuttle.
Hopefully it comes with a stand since it'll be really hard to display it with those wings out.
At least it still looks great with the wings folded.
I don't see any minifigs from the box art but the official Lego one has minifigs. We'll just have to wait and see.
On a general note, it's nice to see that Lepin finally changed the "Star WNrs" logo, this time it's Star Plan and I surely prefer it, not love, but prefer it.
For reference, here are the Lego minifigs:
And here is another picture of the official Lego one: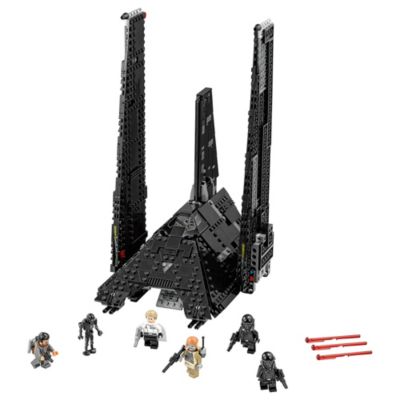 Well that's all folks! Honestly, I'm not really sure when Lepin posts Star Wars sets if they're from Rogue One or from older sets. Still, I'll try to share anything else I find!
SOURCES:
https://3.bp.blogspot.com/-psXj_W5SFa0/V8evcTCSXGI/AAAAAAABES4/PKqAYCzcZ2IBPY2Vq6yDWXnoLHV2iCkLQCEw/s400/LEGO%2BStar%2BWars%2BRogue%2BOne%2BKrennic%2527s%2BImperial%2BShuttle%2B002.jpg
https://sh-s7-live-s.legocdn.com/is/image/LEGO/75156?$PDPDefault$